Infrared Scanning is a non-intrusive preventative maintenance inspection used to detect potential points of failure in your power equipment and batteries.
This proactive approach to detecting problem areas decreases the risk of equipment failure and ultimately:
Keeps UPS Equipment & Batteries in Strong Condition
Eliminates Unexpected System Down-Time
Reduces Repair Costs
Can Decrease Building Insurance Premiums
Prevents Equipment Failures
Improves Electrical & Mechanical System Efficiency
Identifies Areas Needing Preventative Maintenance
Reduces Risk of Catastrophic System Failure
*No equipment shutdown is necessary for this process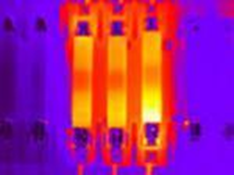 This infrared image was obtained from the 480VAC input power to a piece of production equipment.
This infrared scan of batteries from a UPS system uncovers a dangerous thermal runway condition occurring.